Conference On Arbitration By Legal And Analytical Research Centre (LARC)
December 2016, Lahore – Legal and Analytical Research Centre (LARC) conducted a conference on the topic of arbitration which aimed to identify actionable issues within arbitration procedure in Pakistan.
The conference was conducted in a manner where two panels, Panel A representing the business community and Panel B representing the lawyers community, discussed different issues related to arbitration in Pakistan.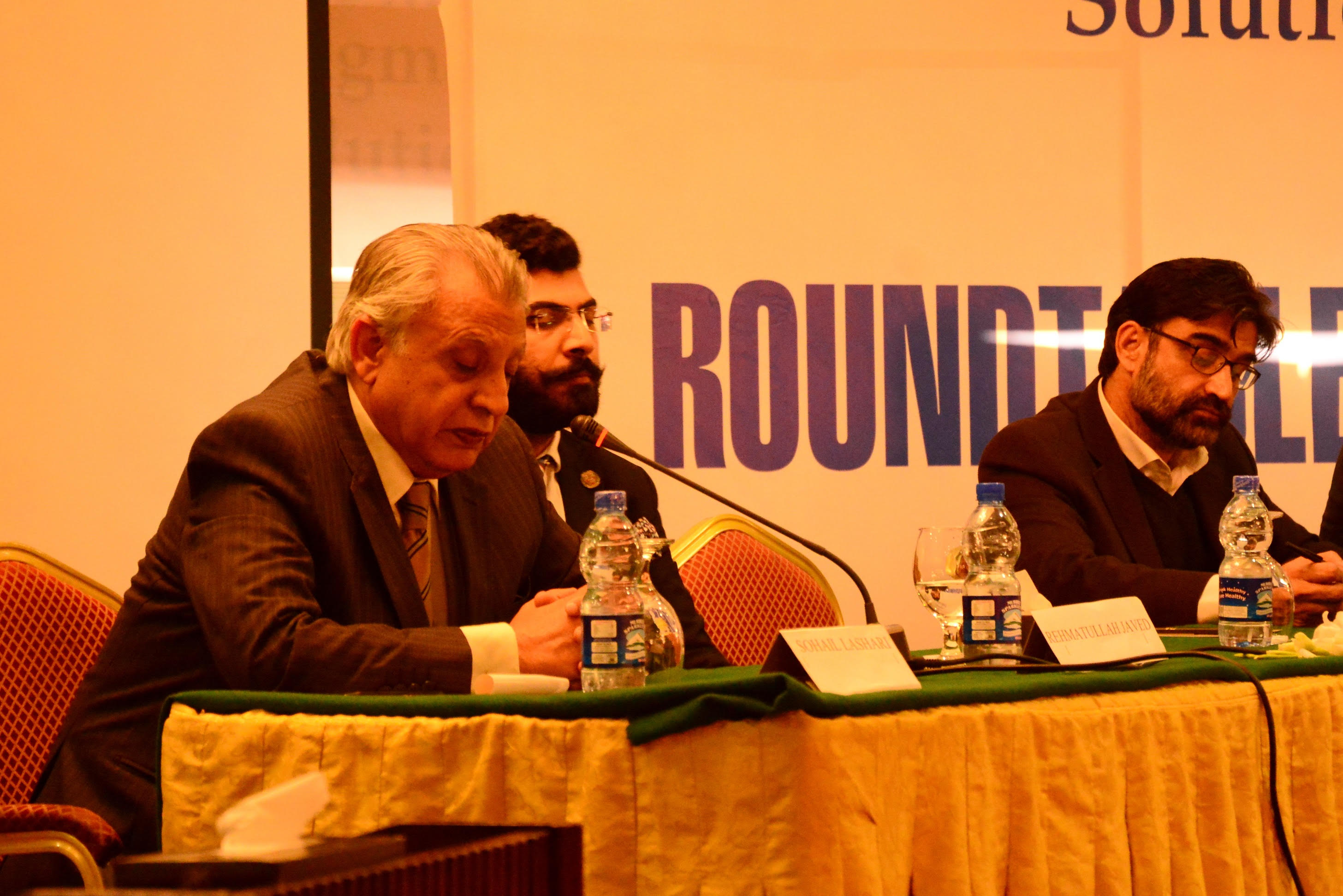 Panel A included Mr Sohail Lashari (Chairman Sozo Group of Companies), Mr Aneeq Khatana, Mr Jehanzeb Sarfraz (CEO Komkonsult (Pvt) Ltd.) and Mr Sohail Anwar (Legal Affairs Group, MCB Bank). Panel B representing the legal perspective comprised of lawyers like Mr Zafar Kalanauri, Mr Taimur Malik (Partner at an international law firm and Founder of Courting The Law), Mr Mushtaq Ahmed Smore, Mr Asim Hafeez and Mr Rana Sajjad.
The first speaker of the conference was Mr Sohail Lashari who spoke about some of the advantages of arbitration and the cumbersome procedure of our courts. He said that he had been vying for having mediation centre in the Lahore Chamber of Commerce.
Mr Aneeq Khatana discussed some of the problems with arbitration and why people were reluctant to go to arbitration in Pakistan. He also spoke about the umbrella clause and its importance.
Mr Sarfraz shed light on the fact that 90% of businesses and 80% of employment is generated by the SMEs in Pakistan and arbitration can be helpful and advantageous to the whole ecosystem.
Mr Sohail Anwar discussed why banks take refuge in the Financial Institutions Recovery of Finance Ordinance 2001 instead of arbitration or alernative methods.
From the lawyers' panel, Mr Kalanauri started with the discussion of why and how our legal system has been a failure. He conceded that lawyers and the judges had failed to give speedy remedy to people and that the system had not been delivering at all. He therefore, was a great proponent of arbitration and its benefits, however, he suggested bringing a new Arbitration Act which would not be as antiquated as the existing Arbitration Act of 1940.
Mr Taimur Malik started his discussion by first questioning how many lawyers were present in the room and then asking how many of them were actually aware of arbitration laws. Acknowledging that only a small number of lawyers were really aware, he said that things in the world had moved ahead while we still lag behind. He informed the audience that arbitration in England had developed so much that it was even considered to be competing with the common law of England. He spoke at length about why people go to arbitration and highlighted four major benefits of arbitration, namely: time efficiency, cost efficiency, confidentiality and integrity. He argued how these four aspects of arbitration have not in fact materialized yet.
Mr Mushtaq Ahmed Smore represented the construction industry and explained how every construction site had different problems. He said that court procedures were too lengthy and that arbitration would be a more practical solution where experts in the field of construction could act as arbitrators in case of disputes.
Mr Asim Hafeez started with a critical analysis of the prevalent laws and then directed the attention of the audience towards the fact that even though there were laws on arbitration, once the arbitrators give an award the parties might have to go to court again to have it implemented or appealed. He also mentioned the mindset of the people and said that it needed to be changed in order for arbitration to have an effective role. He pointed out that another problem with arbitration was that courts were very miserly in giving away their jurisdiction and were acting as adversaries in this respect.
Mr Rana Sajjad, Founder and President of CIICA, said that he held arbitration to be very close to his heart. He talked about international arbitration as a neutral forum for international businesses and emphasized on the need for more talks and trainings on the subject as well as the role of judiciary in this regard.
The panelists then took questions from the audience and answered to their satisfaction. The closing speech was delivered by the Mr Hassan Nawaz, Founder of LARC.