Panama Case – Supreme Court Decision – Latest Updates
We will be posting the latest details and updates in relation to the much anticipated Supreme Court of Pakistan judgment on this page.
Senior lawyers and political leaders including a petitioner in the case, PTI's Imran Khan, have arrived at the Supreme Court building.
1.28pm: The judgment is likely to be published on this link: http://www.supremecourt.gov.pk/web/page.asp?id=103
1.30pm: A good summary of the events so far is available at: https://www.dawn.com/news/1316531
Panama verdict security/ traffic update from the Mohafiz App: The app has a feature to update you on security related news in the area that you are. This allows you to stay abreast of any developing situations so that you may plan your routes effectively.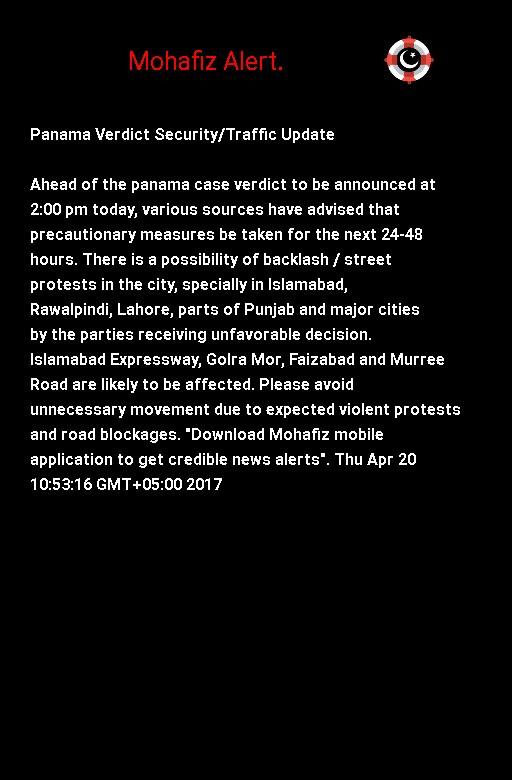 1.50pm: Security has been beefed up around the Supreme Court at Islamabad's Constitution Avenue. Around 1,500 police commandos and riot forces have been deployed around the court ahead of the highly-anticipated decision expected in the afternoon.
2.10pm: Final verdict split 3-2 among the bench with two dissenting notes in the judgment by Justice Khosa and Justice Gulzar.
2.15pm:
Supreme Court orders formation of Joint Investigation Team (JIT) within 7 days to investigate money trail.
Prime Minister to appear before JIT.
JIT to include officials from NAB, FIA, State Bank of Pakistan, Inter-Services Intelligence, Military Intelligence and to be led by a Director-General level FIA officer.
JIT report must be compiled within 60 days.
JIT to report findings to the Supreme Court every 2 weeks.
540-page long judgment likely to be published here: http://www.supremecourt.gov.pk/web/page.asp?id=2464
To request a copy of the judgment, send us a message.