Report On Women In Law Dialogue Series, Session III: Non-Traditional Career Options
The third instalment of the popular Women In Law Dialogue Series – an initiative of Lahore Education and Research Network (LEARN) in association with Courting The Law was recently held at the Research Society of International Law (RSIL)Pakistan.
This session was focused and dedicated to cover the diversity of options open to law graduates in general and to women in particular after their law degree so that they may take an informed decision as to their career paths. The idea behind the session was to put forth for the audience the career trajectories as well as the challenges and opportunities that exist in the various careers that one may pursue following a law degree.
While the traditional career path of legal practice in courts and corporate firms remains the norm, session III of the Women In Law Series was designed to bring forth innovative and diverse career options for its audience. To do so, we had a diverse and vibrant panel of women in law who have dared to be adventurous in their career choices and have carved a niche for themselves.
The panel consisted of
Anoosha Shaigan (Vice President – Courting The Law and Human Rights Activist)
Barrister Fatima Shaheen (Host of Legal Talk Show Qanoon Bolta Hai – PTV)
Maira Sheikh (Senior Research Felllow – RSIL Pakistan)
Mehreen Siddiqi (Representative – Punjab Commission on Status of Women)
Ushba Al Ain (Advocacy and Outreach Officer – Digital Rights Foundation)
The session was moderated by the founding director of LEARN, Ms. Nida Mahmood.
The following is synopsis of the discussion and the main points and comments made by the panelists.
Ms. Anoosha Shaigan, highlighted the dearth of quality legal professionals which motivated her to take up law herself. She encouraged the participants to pursue career options which had room for personal growth and social impact. She highlighted that there was a lot of scope for innovation and creativity in non-traditional careers, minimal rivalry as compared to vying for partner positions at law firms, and above all a luxury to take risks. She emphasized that there is no alternative to integrity and honesty. Non-traditional careers do allow flexibility when it comes to time and work but one needs to learn to strike the work-life balance in an appropriate fashion. She stressed that in today's day and age there was no excuse for anyone with access to internet to not explore the myriad of opportunities and to capitalize on them. She encouraged the use of technology and innovative thinking to create new business options for one's own self and for others, citing Courting The Law as an example.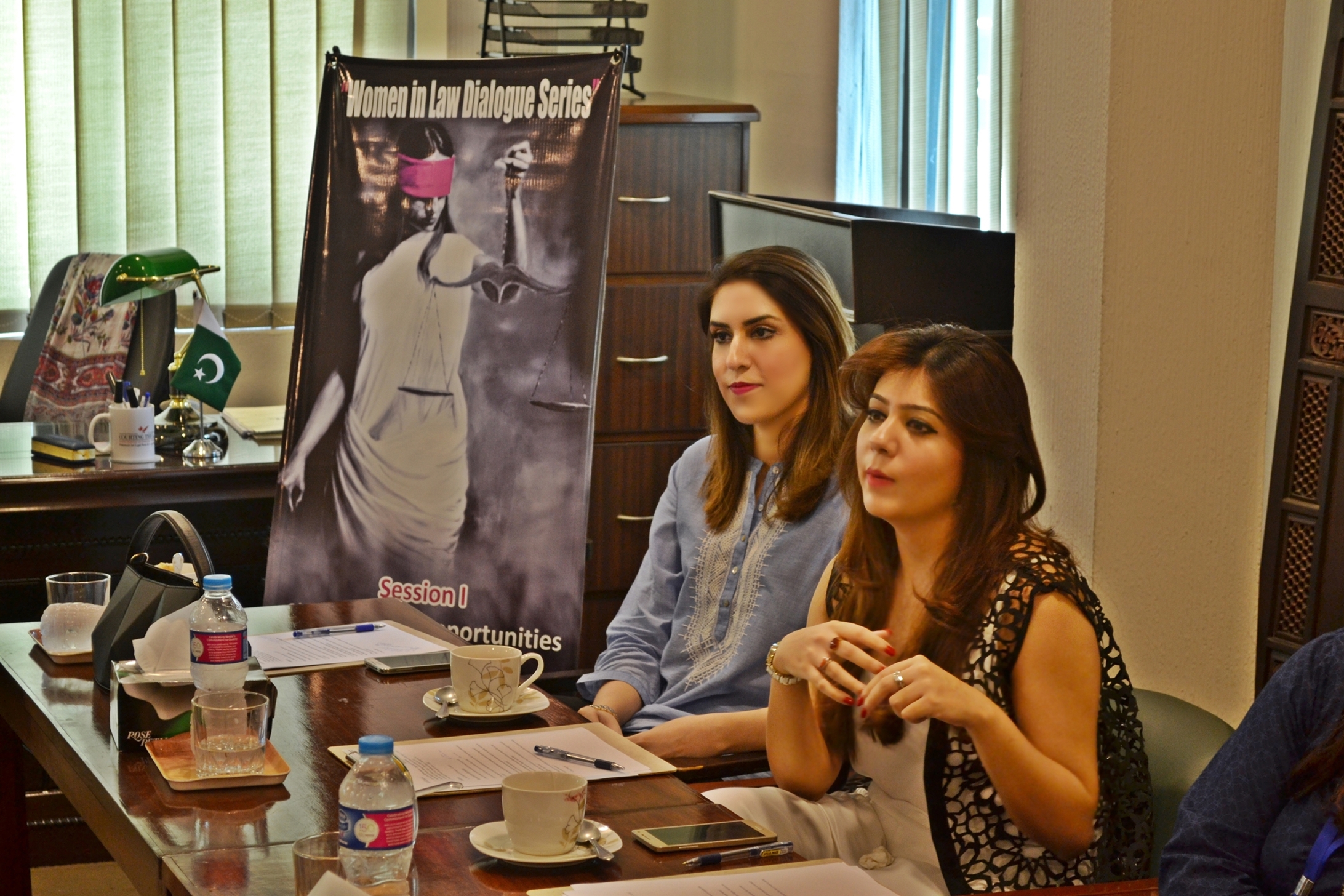 Barrister Fatima Shaheen has a diverse experience in traditional as well as non traditional career options ranging from litigation to the NGO sector and development work to being a freelance columnist and now as the host of a legal talk show called Qanoon Bolta Hai on PTV. Her career choice focuses on educating the masses, which explains her choice of network, which has viewership all over Pakistan. Fatima explained how litigation may be difficult for women given its inherent male dominated setup but that her career in media was no less challenging. She emphasized that her career in media has made her stronger which has helped her in the legal profession as well. Being a host, and interviewing various legal personalities allowed her to get to know individuals on an equal footing, which is not the case at law firms. Working in media has its negatives and positives. One may not be taken seriously in courts, but working in media does give you more face value and clients.
After completing her Juris Doctrine, Ms. Maira Sheikh did her share of criminal and corporate work, but found herself drawn to issues pertaining to Pakistan. Her advice to all the interns is to never hesitate when it comes to emailing institutions and individuals. Maira decided to move to Pakistan after getting in touch with a specialist on Pakistan at the US Institute of Peace. She realized that working 'on' Pakistan and working 'in' Pakistan are two very different things. And that is when she decided to gain a better understanding of Pakistan and moved to Lahore. Maira talked about her hectic work hours which according to her are worthwhile because of how diverse the work is. She emphasized that in her line of work one needs to be opinionated. Her current position as a senior research fellow at RSIL allows her to be a part of Pakistan's narrative. There are very few people in the field. Like other speakers, she stressed that there is minimal competition and there are great opportunities for people of all ages. In traditional legal work, seniority is given preference, which is not the necessarily the case at RSIL. There may be some drawbacks to research related work, for instance there are hardly any seniors to guide you but that is what allows one to carve out a specialised area for oneself.
Ms. Mehreen Siddiqui realised during her LL.M that she wanted to give back to Pakistan so she joined the organisation, Association of Development of Pakistan and worked on issues pertaining to health, education, water and energy for five years. Mehreen stated that these five years consisted of life changing experiences where she felt she was really contributing to society. She worked round the clock to provide health services and water to villages where people usually had to travel for 4 to 5 hours for access. Currently Mehreen works for the Gender Management Information Systems (GMIS) Project by PCSW, specifically on gender empowerment and the work also consists of suggesting policy reforms to the government. Adding to what the previous speakers discussed, she encouraged young women to work in the judiciary where there was a very limited number of women. Her advice to all was that there are no short cuts in life and that one should opt for a career that is personally gratifying.
Ms. Ushbha Al Ain, born and raised in Oman, did her Bachelors from the UK with a Diploma in Law. She is currently working as an advocacy and outreach officer at the Digital Rights Foundation. Ushbha always felt that her strength was communication and she worked well on issues related to human rights. One of the ways she could retain and improve on this trait was by choosing a non-traditional career where she got to work with people face to face. While living in UK she started to understand and internalize various issues pertaining to women in Pakistan. After moving to Lahore she quickly learned that there was a strong link between digital rights and human rights in areas such as privacy for example. Ushbha believes that the upside to her career is that it allows her to be creative and to connect with people. And with areas of law such as her own, shared experiences can be put to use in the field.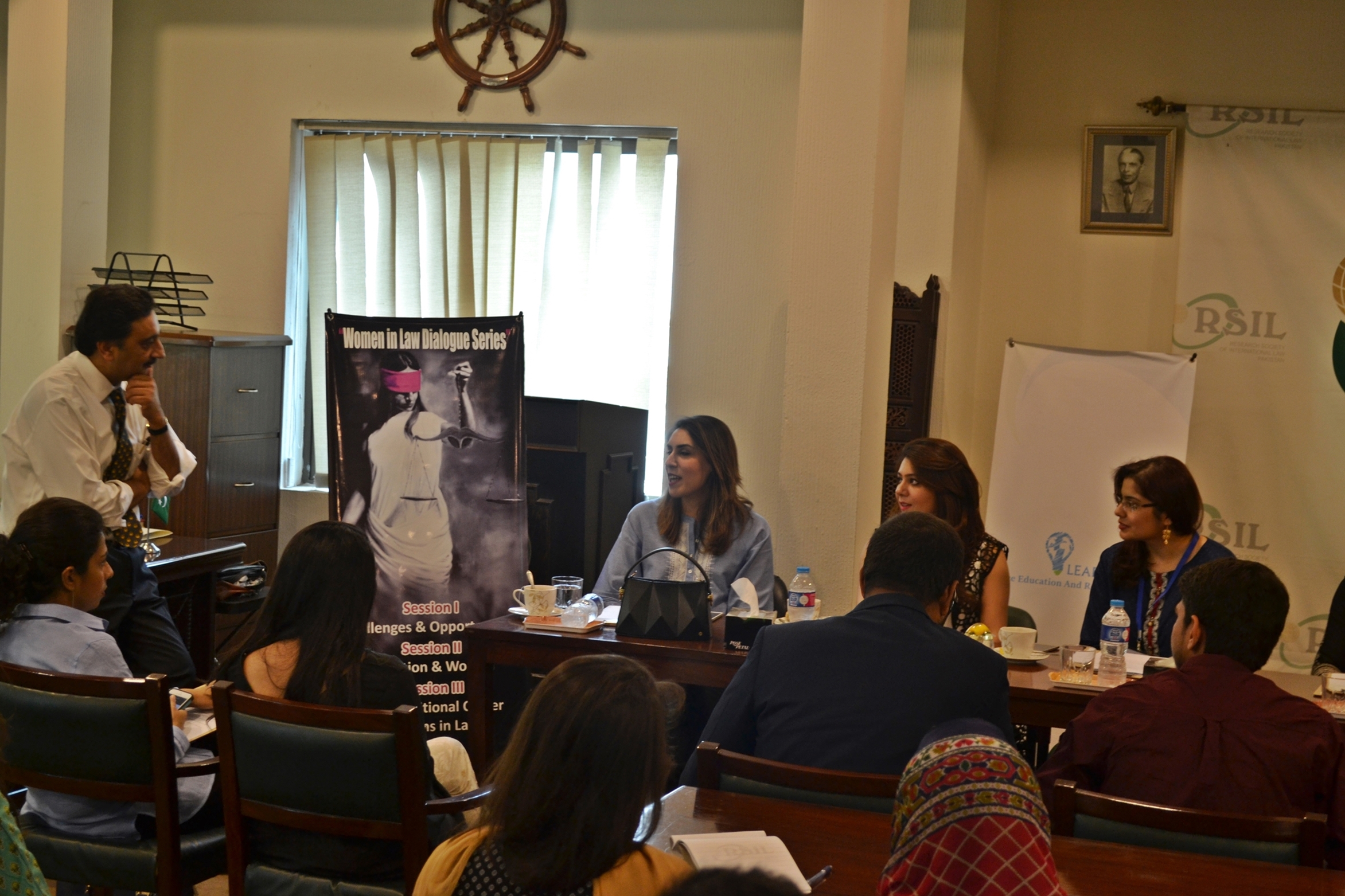 Mr. Ahmer Bilal Soofi, President of RSIL was also present at the session to encourage the participants and panelists. He appreciated the efforts and the career decisions that our panelists had taken and congratulated Ms. Mahmood on bringing forth a diverse set of female role models for the attendees, the law students and young lawyers.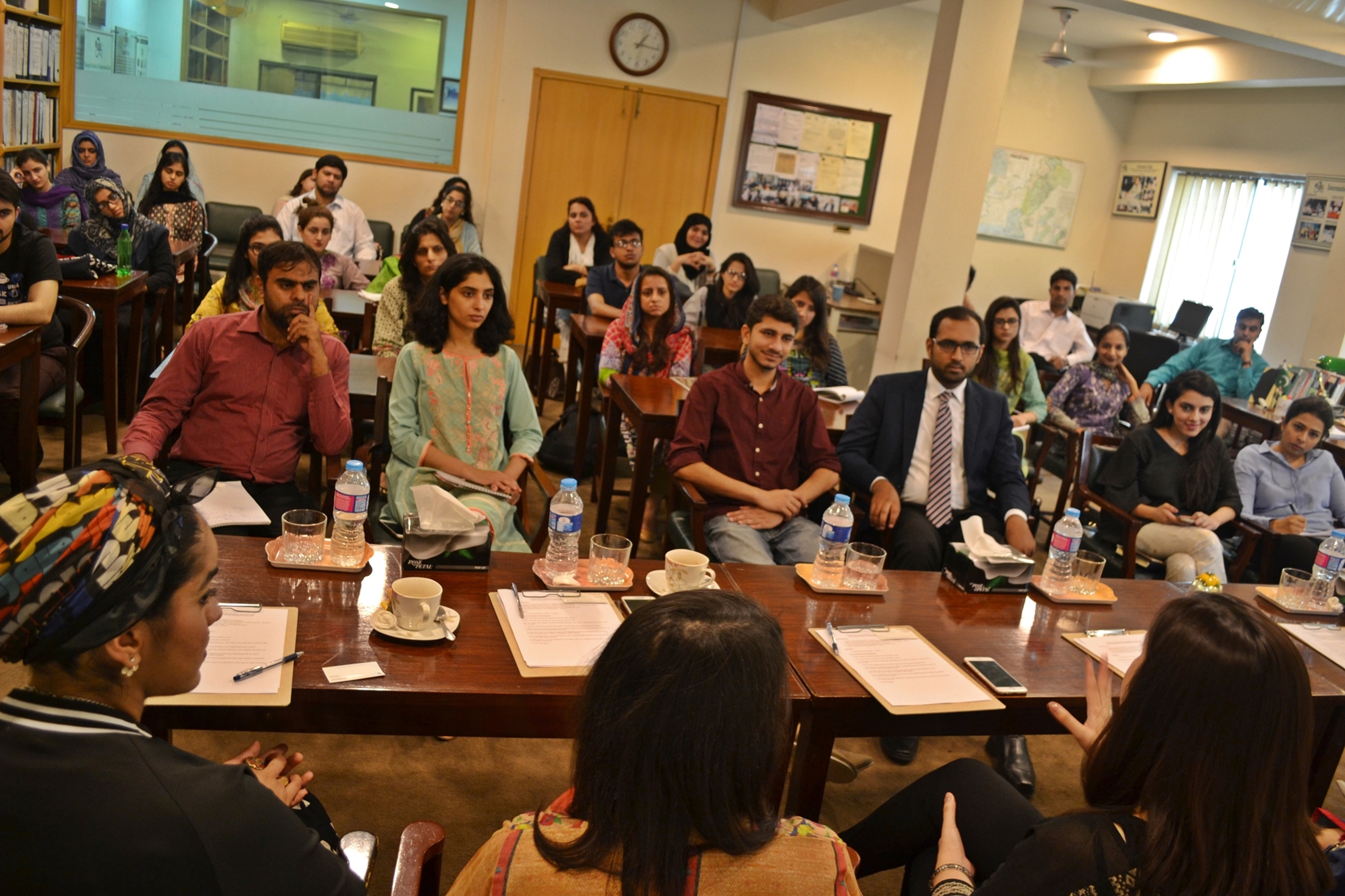 The floor was then open for the audience to share their collective views, raise questions and interact with the panelists.
This session marked the culmination of the three-part Women In Law Dialogue Series.
For comments, queries and feedback please write to us at [email protected]