Protection of traditional cultural products such as the Sindhi ajrak or Sargodha's kinnow and improvements in the trade sector of Pakistan can be encouraged through the newly enacted law concerning geographical indications (GI). It can potentially not only advance commercial and economic interests but also foster local values, such as quality production increasing trade avenues and increase in employment benefitting local communities while safeguarding the rich culture and traditions of Pakistan. The newly enacted legislation is a firm step towards achieving these objectives.
It is, however, worth noting that Singapore and India passed their relevant laws for the protection of GI back in 1999 whereas for Pakistan, legislation concerning GI has been a struggle for over a decade until this year. In March 2020, Pakistan enacted the Geographical Indication (Registration and Protection) Act (GIRPA) 2020 fulfilling one of its obligations under Article 22 (protection of GI) of the Trade-Related Aspects of Intellectual Property Rights (TRIPS) Agreement.
To understand the potential that a GI tag holds, it is first crucial to understand what is meant by it. As elucidated by the World Intellectual Property Organization (WIPO), GI is a distinctive sign used on goods that have a specific geographical origin and possess quality, reputation, or other characteristics attributed to that place of origin. As per S.2 (viii) of GIRPA 2020, geographical origin can be an area of a country, region or locality and can also include a sea, lake, river, island, or mountain, etc. These geographical origins may hold significance either due to natural factors (such as climate), or human factors (such as skills or knowledge), or a combination of both. A GI tag, therefore, helps consumers differentiate between products according to their distinct recognition, for example, Irish whiskey (Ireland), kilim carpets (Turkey), Swiss watches (Switzerland), Cuban cigars (Cuba), etc.
In light of this understanding, protection of GI is a necessary tool that can be used to protect traditional/indigenous products, thereby indirectly protecting the cultural expression and knowledge of local communities and conserving the cultural identity of Pakistan at a global level by giving products a distinguishable identity. Previously, in the absence of relevant legislation or legal framework, international brands continued to sell Pakistan-origin goods under the guise of Paul Smith's Peshawari chappal or the Moroccan ajrak, etc. without any credit due to Pakistan. Such practices not only exclude Pakistan from bringing its products into the global market but, more importantly, deprive Pakistan from showcasing its cultural expression and deep-rooted practices which are a matter of pride for its citizens. Therefore, Pakistan needs to register GIs in order to protect its cultural expression and traditional knowledge and ensure that local communities obtain the true worth of their craft and skills while building a good reputation on international platforms.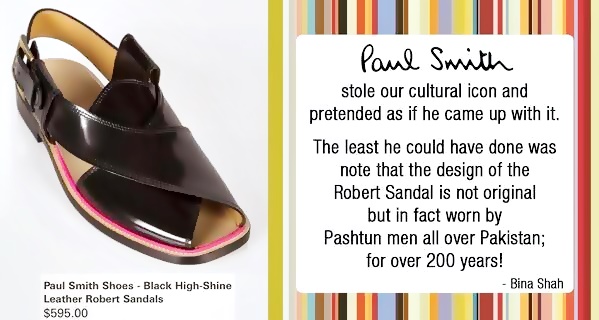 Advocates of the GI tag profess that for exporters it is a tool which can be used to add value to the natural riches and local products of our country on a global market in comparison with foreign competitors. It will also enhance rural socio-economic development and economic profits for a less developed country like Pakistan.
Having said that, immediate action needs to be taken to safeguard the potential trade market before competitors gain forefront advantage, as can be seen in the case of basmati rice. While Pakistan exports 500,000 to 700,000 tons of basmati to various countries, India has been fetching higher rates with a similar product due to its laws relating to GI and timely penetration into the international market.
India has recently applied for an exclusive GI tag for basmati rice in the European Union. If granted, it will result in a huge loss for Pakistan in the global trade market. Pakistan must challenge this and file a strong opposition against India's application before the 3-month deadline which ends in December of this year. It cannot be emphasized enough how important a GI tag is in today's world of globalization.
Additionally, GI rights are regional in nature, therefore, despite having introduced a sui generis system, GI protection will be limited and will not automatically make Pakistan immune to exploitation at an international level. Pakistan, however, is a signatory of the TRIPS Agreement under which members of the World Trade Organization are required to protect the GIs of other member states. To further increase global protection, another possible route is to seek GI protection in other jurisdictions under their national legislation which will require individual registration and be a time-consuming process. To avoid individual registration, WIPO's Lisbon System for the International Registration of Appellations of Origin and GI offers a pathway for obtaining protection of the same in every contracting state through a single registration (an international registration) through one set of fees. The wide scope of this system presents a major attraction for Pakistan to become a signatory in order to avail potential protection.
In light of the above, the recently passed law is essential for Pakistan for the protection of its cultural expression, the expansion of its presence in the global trade market and the prevention of Pakistani products from being exploited in international markets by other competitors. Once products are established as geographical indicators under the anticipated system, the overall volume and protection of trade will be augmented, opening many doors to Pakistan's untapped potential.
---
[Cover image: A toaster inspired by traditional Sicilian carriage design]
The views expressed in this article are those of the author and do not necessarily represent the views of CourtingTheLaw.com or any organization with which she might be associated.