Legal Hackers Lahore Chapter: Inaugural Meet & Greet (Registrations Open!)
Legal Hackers is a global movement of lawyers, policymakers, designers, technologists, and academics who explore and develop creative solutions to some of the most pressing issues at the intersection of law and technology. Formed in 2012 in Brooklyn, New York, it has now grown to 80+ chapters worldwide. Through local meetups, hackathons and workshops, Legal Hackers spot issues and opportunities where technology can improve and inform the practice of law and where law, legal practice, and policy can adapt to rapidly changing technology. This is the first meetup of the Lahore Chapter and will feature introductions from people working in or interested in the area of legal technology.
This event has been organized by Ms Anoosha Shaigan and Ms Zokhruf Omer in collaboration with Legal Hackers (international), Courting The Law (Pakistan's First legal News & Analysis Portal), PLATINUM (Pakistan Law And Tech Innovation Forum) and Daftarkhwan (a coworking space, building a community of entrepreneurs, startups and professional driven towards innovating, sharing and growing together).
Register here: bit.ly/2Gwogru
Confirmation of registration and the agenda will be emailed to registered and shortlisted participants only.
Limited spots available.
Meetup Date: Sunday, April 8th, 2018.
Timing: 3 pm -5 pm (punctuality is requested).
Venue: Daftarkhwan, 45-A, Khayaban-e-Iqbal, Sector XX, Phase 3, DHA, Lahore, Pakistan.
Dress: Smart casual/ business casual.
Working tea/coffee/refreshments will be provided.
We can be reached by email [email protected], Facebook and Twitter.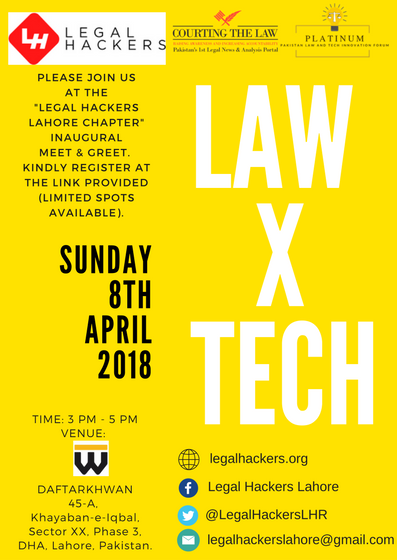 Register here: bit.ly/2Gwogru